What day is it?
Who am I?
What should we do next?
Have you noticed how similar we are, lately?
We've had "up- days" and "down-days" and days when we haven't had a clue how we feel or what we should do about it!
Most of my friends have been doing their very best to keep their spirits up by chatting online, walking, cycling or various other socially distanced activities.
For me, I've been very happy to do some Pilates and walking (I'm feeling fitter than I have for years) as well as gardening, in between keeping an eye on my mum and taking her some vital supplies. I've had some quiet days but recently, I've been very busy.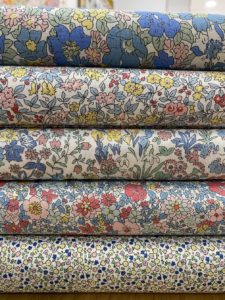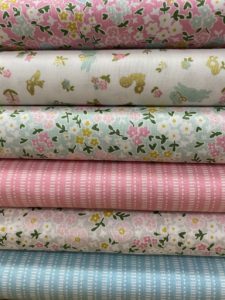 Because the shop was closed, packages have been turning up at my house including these from Liberty and Riley Blake.
It was tempting to keep them all to myself but, of course, that wouldn't be half as much fun as sharing them with you.
All of these fabrics are now on the website. Have a look and see these and lots more there.
Rob and I have spent days attempting to illustrate some of the thousands of fabrics on the website – www.highstreetquilting.co.uk  .
It's quite a job for us. We have minimal IT experience and I have less than minimal patience!
But, we've made a start and we'll continue to add more every day.I suggest that you start on the "Shop" tab and then navigate through fabrics to find fabric by the metre/ fat-quarter bundles/jelly rolls/layer cakes and charm squares.
We have listed a lot of our latest fabrics as well as the plains, linen-effect and "tone on tone" fabrics that we all use so much of.
Make a note of the numbers or descriptions of each fabric you'd like. It'll make our work so much easier.Jayne and I have been busy today, making up some small kits. You'll find them under "Kits" – unsurprisingly.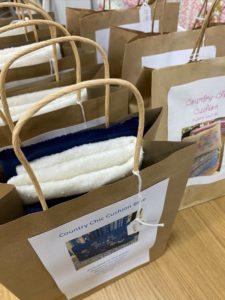 And so …. we have a plan.
From Wednesday 13th May
Jayne and I will be taking telephone and email orders between 9:00 and 12:00 MONDAY to FRIDAY
We will process the orders and then phone you for payment by card when they are ready to be picked up  or delivered.
We will deliver within a 5mile radius from the shop.
Delivery charge will be £5 (free on orders over £75).
In order for this process to run smoothly you will need to have worked out exactly what you would like to buy and how much.
Most of you will have watched me work out quantities of backing and wadding, well now it's over to you. So search out your pencil and some old envelopes and… off you go.You will need to tell us
Your name
Your telephone number 
Your address (if you'd like us to deliver)
Your requirements and the quantities you'd like us to send. (minimum cut 50cm)
After putting together your order, we will phone you so that you can pay by card. Then you will be free to come and pick up your goodies.
We will use the back door of the shop, where we will place your goods on a table when you arrive.
Please observe the 2m distance rule.
Sadly, I have decided that we will not be sending out parcels in the post (at least, not yet). The Post Office will be busy and as, I'm sure you are aware, we must cut down on our social interactions. Jayne and I want to keep on working and sewing as long as possible.
Our phone number is 0191 4100868
Our email address is [email protected]
or you could send your order using the contact form on our website.
Please remember to include your phone number in your email.
Thankfully, I have had some time to sew too.
I found that although I have a lot of fabric and tools at home,
the three things that I'm really glad that I keep at home are;
a large cutting board
a super sewing machine
a huge selection of threads
Before we closed up the shop at the end of March, I'm really glad that I bought;
a pack of beautiful Elizabeth Hartman fat quarters
a book – Histoire Des Koshekis – which has some great patterns and lots of inspiring projects

a roll of freezer paper for appliqué and foundation piecing.
Now that I have access to supplies again, I'm planning to buy;
sharp replacement blades for my rotary cutter ( now totally blunt)
a new cutting board ( I've worn mine out)
a 12 1/2″ square ruler ( an absolute MUST HAVE ).
Why don't you make a list of your own "must haves" and get in touch. It'll be great to hear from you.
I've missed you, and look forward to hearing from you soon. xx