Our shop is an oasis of calm in a stormy world.
We're still busy, helping customers to choose fabrics and give them a little help and encouragement to keep them on track.
Having time to chat about our projects is a pleasure and seeing what our creative customers are up to is such a joy.
During lockdown 2 in November, as we're classified as a non-essential business, we've had to close to customers entering the shop, but we are still open for telephone and email orders, for collection from the back door, postage, or delivery at a radius of 5 miles from the shop.
So we will be available to contact;
Monday 9am – 12noon
Tuesday 9am – 12noon
Wednesday 9am – 12noon
Thursday 9am – 12noon
Friday  9am – 12noon
Please phone to arrange your next order:  0191 4100868  (during shop opening hours)
or email us via the contacts page on our website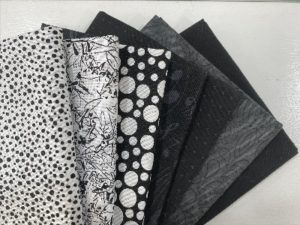 Have you noticed that life seems to be very "black and white" at the moment?
We've had to take sides.
Brexit or Remain
Mask or Anti-Mask
We're at war with ourselves.
But those of us who have reached that certain age, know that real life isn't like that.
It's much more blurred than that.
Or grey, if you prefer.
With brief glimpses of bright colours.
I choose to focus on the bright colours.
It's our mission,
at High Street Quilting,
to bring those "glimpses of colour" into your life.
We choose the most beautiful fabrics to inspire and delight you.
We scour the internet and interrogate our suppliers to find you the best quality fabrics in the most exciting colours.
We've set the bar really high, and fortunately, from what I've seen, the future is colourful.
We are eagerly awaiting 24 bolts of fabric from the superb collection
"Quotation" by Zen Chic for Moda Fabrics.
For those of you who couldn't get enough of Brigitte's collection "Comma" – you're going to love it.
There are some wonderful patterns to download on the designer's blog
Have a look and be inspired.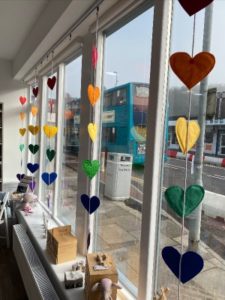 Running a business is always challenging but we'll take the lead from those in the emergency, frontline services and keep our feet on the ground and stay positive.
We owe them that.
Jayne and I made a tribute to everyone on the frontline – our window display of colourful hearts says it all.
It's hard to know when we'll be back to classes but you can be certain that we will – eventually.
Every day I am asked when classes will be starting and I'm sure that the time is not right – yet.
As much as we'd love to see you all again, the advice is that we should not be mixing and keeping us all safe is my top priority
Throughout this testing time, we've all had a little more time to spend on our own projects.
Here is a little peek at one that I'm working on at the moment, using fabric by Minki Kim.
It's a lovely combination of pinks, blues and greys with quirky designs.
It's fun!
Remember, life doesn't need to be black and white.
If we look outside, the colours of nature are awesome at the moment.
Let's keep our eyes, our minds and our hearts wide open.
The news can be so depressing and frightening, but there are glimpses of hope on the horizon.
Focus on the bright colours.
With love,
Hilary xx