December 14th, 2021

Happy New Year
Let's make plans.
Let's dare to be optimistic and forge ahead.
We can't go back to the old ways, as they were, but we can do our very best to focus on doing the things we love.
I'm not sure what I'd have done without my sewing. It has kept me busy and I have loved it more than ever.
So many people have found that they would like to take up sewing as a hobby and so you'll see that many of the workshops below will be suitable to beginners or new starters.
Don't worry if that isn't you – why not look to joining one of our sewciable sewing groups? We have a few spaces (see below) and you'll be able to share your knowledge and love of sewing with others.
---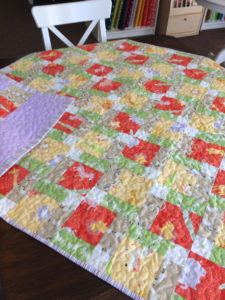 "Let's Make a Quilt" (by machine)
A course over 5 sessions, in which you will make a quilt from start to finish.
We will tackle the skills of cutting, sewing, layering,quilting and binding.
The pattern we will use is "disappearing 9 patch".
Dates;
Saturday 8th, 15th, 22nd, 29th January and  5th February.
Time 10am-12 noon
Price £80 (please note – this class will be upstairs)
---
"Catch All Caddy"                                                                                                                                                                          
Over 5 sessions, Mary Turner will take you through the process of making this useful sewing caddy.
There'll be lots of skills to learn along the way and much fun to be had.
Dates; Tuesday 4th, 11th, 18th, 25th Jan and 1st Feb.
Time 10-12 noon
Price; £15/session
Pattern available to buy, at High Street Quilting
---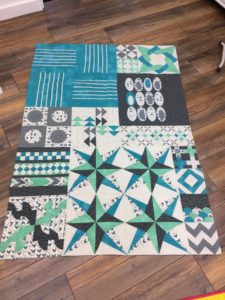 "Mary's Sampler Quilt"
A 12 session project, suitable for the novice quilter.
Mary has taught this project before with incredible results.
If you're looking to learn lots of new skills – this is the course for you.
Beginning Tuesday 4th January for 12 weeks
Time 1.30 -3.30pm
Price £15/ session
---
"Get to Know Your Machine"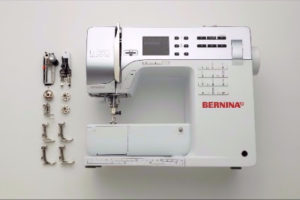 Have you received a new sewing machine for Christmas?
Do you want to dust off your old sewing machine and rediscover what it can do?
In this two hour session we will play with your machine and find out exactly what it can and cannot do.
You'll grow in sewing confidence and feel ready to tackle new, exciting projects.
We have 2 dates to choose between; Wednesday 12th January  OR Wednesday 23rd February
1.30- 3.30pm £15
---
"Free-Motion Quilting"
Back, by popular demand;
a short introduction to the process of free-motion quilting.
If you've always wanted to have a go at this incredibly creative and versatile skill – get in touch and book a place.
Two optional dates for you to choose between;
Wednesday 19th January 1.30-3.30 OR Saturday 12th February 10am -12 noon
(please note, this session will be upstairs)
£25 to include all fabric needed.
---
"Handquilting, for beginners"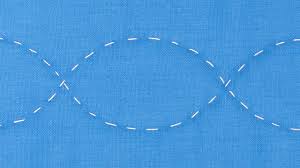 A simple and stress free workshop that could well set you off on a completely new path.
We'll transfer a simple pattern, layer up a block and show you the basics.
Bob's your uncle.
Wednesday 2nd February
1.30-3.30 pm
£30  includes all fabrics and wadding
(please note – this workshop will be upstairs)
---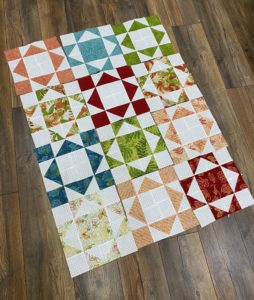 "Half and Half Quilt"
From 1 layer Cake (10″ squares) and an equal amount of background fabric we can make this beautiful quilt. ( If you look closely – you'll see that I'm still busy with mine).
It's a beautiful block – perfect for those with a little experience of patchwork.
Don't expect to get the whole quilt made in one day, but you'll get all the teaching you'll require to make the whole quilt at home.
Date; Saturday 26th February
10am -3pm
£40 ( to include the pattern book – Jenny Doan's Precut Companion)
---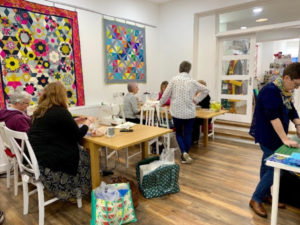 Sewciable / Independent Sewing
Who'd have thought that when we closed up the sewing school 20 months ago, that we'd still be sorting things through and readjusting ourselves to the new normal?
Our groups have begun to reassemble, but they are going to be very different.
Some people have decided to give up on sewing or they've found new groups or places to sew that suit their needs and new people are wanting to come.
I still have a list of classes and payments made "pre-pandemic" please get in touch or pop in to the shop and ask for a refund of any fees paid then if you're not able to return.
We have several small groups running and we're adding two more BUT places are limited. If you'd like to come along to one of these groups please get in touch as soon as possible.
We have spaces available;
Wednesday afternoons, fortnightly, beginning 5th January 1pm -4pm   £7.50
Thursday afternoons, weekly, beginning 6th January , 1pm – 4pm  £7.50
---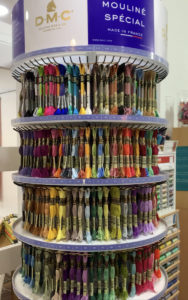 While keeping to our mission of being a specialist quilting shop, I must say that we're not going to stand still and let the grass grow under our feet here at High Street Quilting.
I don't know about you but I love to try out new things – adding embroidery or rework to quilts or trying out new threads or experimenting with colour. We're never too old to try out new techniques and explore new avenues.
And so, I've taken the bold step of buying a brand new DMC spinner, with 572 stunning shades of thread.
I hope you'll love it as much as I do.
Jayne and I have already spent a lot of time marvelling over potential colour combinations. Sad but true!
Come and explore our beautiful, inspiring shop. You'll find books and patterns, threads and fabrics to inspire and delight you.
---
We've been through a nightmare. There's no denying it.
But the shortest day is nearly upon us and we can safely start to look forward to the bright, sparkling light of Christmas and the promise of brighter days.
I hope that you can find a way to join us next year at High Street Quilting.
We love to see you and to see your projects.
Everyday is colourful here at High Street Quilting but it's you and your presence that makes it beautiful.
I wish you and all those you love, a Merry Christmas and a very Happy New Year.
With love,
Hilary
High Street Quilting

will be closed from Saturday 18th December 2021

and

will open again on Tuesday 4th January 2022

September 1st, 2021

It's my birthday and it's a big one! I'm having a week away and the shop will be closed until Tuesday 7th September.

Apologies for this mega newsletter.

You may need a week to read and digest.

Enjoy!
---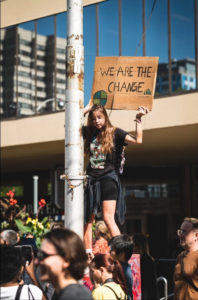 Do you, like me, feel powerless to change the world?
To make a tiny, little stand against the global conglomerates and the governments.
Do you feel like an insignificant cog in a massive capitalist machine and there's nothing you can do about it?
It's depressing, isn't it?
And it's dangerous too.
If we wait for the world to change before we do – it won't.
We're on our own.
With respect to Covid and Climate Change – big business doesn't care about us. And it cares even less about the things we value.
If you, like me, care that many of the world's small countries could soon be under water and that many of the world's tropical rainforests will be destroyed – we have to do everything that we can.
Imagine that everyone who cared, did something, anything.
So, we're going to do something. Something that flies against all conventional business sense.
Instead of pushing and pushing and growing and growing.
We're going to stop.
We're going to strike!
Every Friday.
We'll close the shop.
Every Friday.
What difference will it make?
I don't know.
But it may make us all think about the fragility of our environment and how precious it is to us.
At the very least – several journeys won't be made, heating will be saved and we could spend the time and energy we've saved, looking into other energy saving measures ( even sewing quilts to keep us warm when we may be tempted to turn on the heating).
At best, we'll add our voices to the growing throng of people who are demonstrating that they care too.
And maybe, at the forthcoming COP26 climate change conference in Glasgow, in November, our esteemed leaders may be encouraged to take bold steps to reduce the amount of fossil fuels burned and work with the scientists to find a better way forward.
---
Workshops….
We can't go back.
I have the impression that many of our friends and customers are waiting for the tide to turn, for the announcement to be made that Covid has gone and we can return to life as it was before.
Well, we're slowly coming to the conclusion that this isn't going to happen, – ever.
We really are on our own.
We've been sensible and cautious this far and we'll have to continue in this way.
Our workshops will be small – between 4 and 6 people and our "Sewciable" sessions will be small too.
You will need to book each session, in advance.
I realise that friendship groups were made here and that you may like to book in as a group – that's understandable.
But remember that we'll be keeping to those small numbers – so book in.
You'll also notice that prices have gone up.
They have to.
Like most other small businesses, we have lost a lot of money – despite the government grants- this has gone on so long and we have lost so much income.
Please believe me when I tell you that all other small businesses will be struggling. Please support them as much as you can.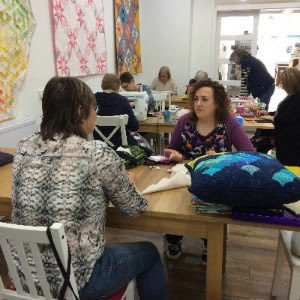 ---
Sewciable Sewing.
Bring along your own project and sew with friends.
You pick up tips and techniques that will change your life!
£10/session of 3 hours.  9.30am – 12.30
Wednesday 8.9.21
Thursday   9.9.21
Wednesday 15.9.21
Wednesday 22.9.21
Wednesday 29.9.21
Thursday 30.9.21
Wednesday 6.10.21
Wednesday 13.10.21
Wednesday 20.10.21
Wednesday 27.10.21
Thursday 28.10.21
There may be other sessions available.
If you'd like to come with a friend or two – just ask and we'll try to fit you in.
---
Embroidery
Please note – this is a one-off workshop and not an on-going group.
In this workshop Kay will teach you the incredibly useful skill of "Silk-Shading",
otherwise known as Long and Short Stitch.
Kay is an extremely talented embroiderer who will work with you to help you to produce your very best work.
Saturday  2.10.21
10am – 12noon
or 1pm-3pm
£20
---
Modern Quilting
This is an informal sewing session where people who enjoy Modern Quilting, meet up and sew together.We have planned some 3 hour sessions on Saturday mornings. If demand is sufficient we may have an afternoon session too.
9.30-12.30
Saturday 11.9.21
Saturday 9.10.21
Please book in. Places are limited.
£10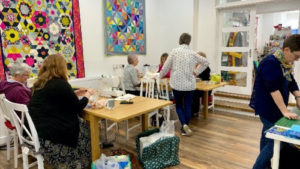 ---
Baltimore
By it's very nature, this is an on-going group.
Each month Eileen will supply you with a pattern for a block that you will begin
(with her guidance) and then complete at home.
Since we have limited space, we will have smaller groups.
One group will meet in the morning and another in the afternoon.
Anyone wishing to start to make a Baltimore quilt is advised to come to one of these sessions to see what is involved and to then discuss how much fabric you will need to buy ( there's a lot of background fabric). Please book in.
Saturday 18.9.21
Saturday 16.10.21
9.30am-12.30  OR  1pm – 4pm
£20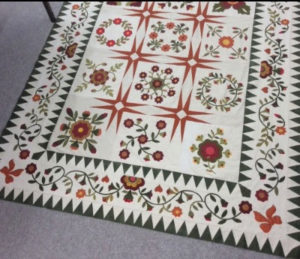 ---
Let's Make a Quilt.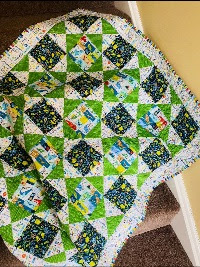 This popular 5 part course will take you through each stage of quilt making, by machine measuring and cutting, piecing, layering, quilting and binding.
Tuesday mornings
10am -12 noon
£80
28.9.21,5.10.21,12.10.21,19.10.21,26.10.21
---
Houses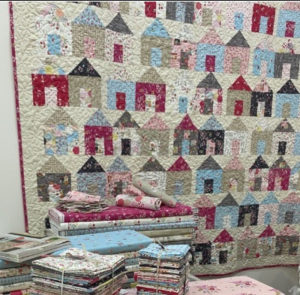 I love the simplicity of this pretty quilt.
Spend a few hours with me and I'll teach you to make the house block that makes up this beautiful quilt
Thursday 7th October 2021
10am-2pm
£30
---
American Piecing
You'll look at hand sewing in a completely different light.
American piecing is so easy and it allows you to hand sew almost any pattern.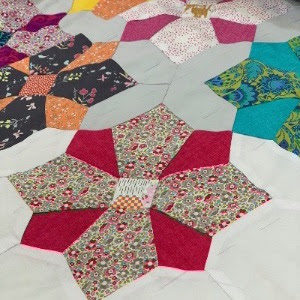 Tuesday 14.9.21  10am – 12noon
OR
Thursday 23.9.21 10am -12noon
£20
---
Needleturn Applique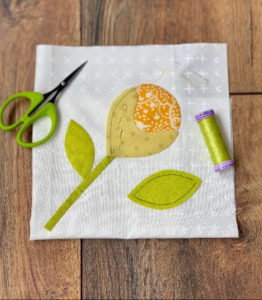 In this stress-free workshop, taught by Jayne, try your hand at needle turn sewing.
A great introduction to Baltimore projects.
Give it a go – you may surprise yourself!
Thursday 16.9.21 10am – 12noon
OR
Tuesday 21.9.21   1.30pm – 3.30pm
£20
---
Foundation Piecing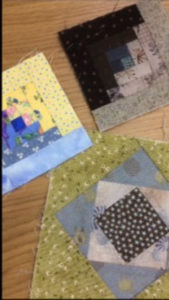 The technique that never fails.
If you've always wanted perfect points
(and who doesn't?)
this technique is essential.
Eileen Swart is a superb tutor.
She will help you to master this important skill.
You won't look back.
Wednesday 13th October 2021
1.30 -3.30pm
£20
---
Get to Know Your Sewing Machine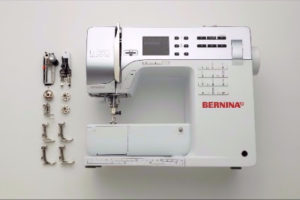 Have you just dusted off your old sewing machine or have you ventured out to buy a new one?
Why not come along to this stress-free workshop and find out exactly what you and your machine can do?
Saturday 25th September
10am – 12noon
£20
---
Free Motion Quilting
A workshop that is incredibly popular.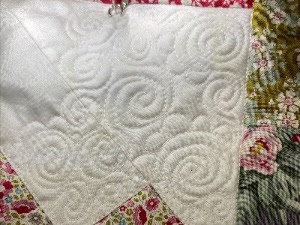 In this workshop I will introduce you to the principles of free-motion quilting.
You'll need to bring along your machine with a round quilting (or darning) foot. I'll provide the fabric.
Wednesday 29th September 2021  1.30-3.30pm
OR
Thursday 28th October 2021 1.30-3.30pm
£25
---
Design a Quilt Block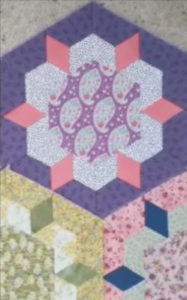 Now that you've made a hundred quilts, designed by someone else, wouldn't you like to have the confidence to design your own block?
We'll go back to school with pencils and paper and maybe a pair of compasses and we'll experiment with some designs.
It'll be fun.
Thursday 14th October 2021
10am-12noon
£20
---
And of course there have been the weddings – two of them.
Two very different but equally beautiful and joyous occasions.
We have been so blessed.
The sun shone.
The brides and grooms were radiant.
And we almost escaped the dreaded Covid!
Unfortunately Dan (our youngest son and the first groom) missed Phil's wedding having tested +ve the day before the wedding. And then, I succumbed to the virus on returning from Ireland, but we made it!
Photos are in the pipeline..
But I have two, featuring the main players.
Imogen and Dan, Emer and Phil
XX
---
As you can tell, there's a lot going on here and a lot to take in.
Understandably, you may think that I've lost the plot.
Why would I risk losing a day each week just when we're trying to get back on our feet?
Well, we have to do something to build a better world for our children and grandchildren.
And we'll work better and more efficiently on the days that we are open.

To clarify;
No appointments are necessary for the shop – please wear a mask.
Phone or email to book a workshop. 0191 4100868

From Tuesday 7th September
Our opening times will be;
Sunday         closed

Monday        closed
Tuesday        open        9.30am-3.30pm
Wednesday   open        9.30am-3.30pm
Thursday       open        9.30am-3.30pm
Friday            closed      STRIKE
Saturday        open        9.30am – 12.30pm

I hope you're with me.
Best wishes,
Hilary xx

May 8th, 2021

It's been a long time coming, but perhaps it's time to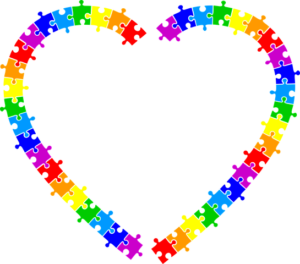 pick up the pieces
If this pandemic has taught us anything it is that we were living in an unhealthy target-driven environment.
Those of us who are still working will know that the pandemic put paid to targets for a while and I, for one, thought that life was better without them.
We learned that, generally, people try their best and that waving a big stick at them simply causes stress. And although some of us need a little stress to get moving, under enormous stress, none of us do our best work.
And so, you'll have to forgive me if we don't simply jump right back in to doing things the way we did before Covid 19.
We can't anyway.
Up until March last year our school was full-to-bursting, every session.
And I was running as fast as I possibly could, just to keep up.
Our classes were buzzing with enthusiastic quilters.
It will be a while until we can get back to those numbers, if ever.
In the meantime (at least until the next stage of "the road map") I'll be concentrating on providing some beginners classes for all the people who have discovered our incredible hobby via Facebook, TV, YouTube or even by simply having a go.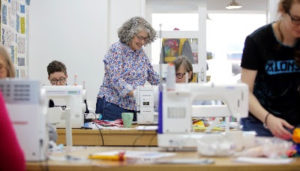 And so,
I have timetabled a few workshops and one short course for any beginners who would like to come along and try out a new skill. We will have only 3 students any time in our workshop, in order to maintain social distance. All attendees will be required to wear a mask in the classroom.
Wednesday 19th May 2021
10am – 12 noon
"Get to know your Sewing Machine"
Friday 21st, 28th May, 4th, 11th, 18th June,
1pm – 4pm
"Let's Make a Quilt" 5 afternoons
Wednesday 26th May
10am – 12noon
"Basic skills – cutting and sewing – half square triangles"
Wednesday 2nd June
10am – 12noon
Free-motion quilting  – the first steps.
Wednesday 9th June
10am – 12noon
"Get to Know your sewing machine"
Wednesday 16th June
10am – 12noon
"Basic skills – cutting and sewing – half square triangles."
Further details of classes below.
Phone to book your place 0191 4100868
Payment for classes by cash or cheque please (H.S.Q. Sewing School Ltd).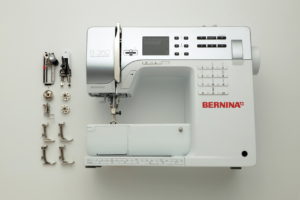 "Get to Know Your Sewing Machine."
Bring your sewing machine along to this 2 hour workshop and play!
In this stress-free environment you'll discover how to get the best out of your machine and learn more about all those helpful feet and functions that you didn't dare to try.
£20
"Let's Make a Quilt"
in 5 sessions of 3 hours.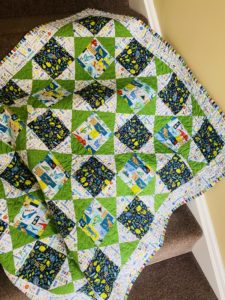 In this class, designed for beginners, you will learn to:
measure and cut, using a ruler and rotary cutter
sew with a 1/4″ seam
Create a small quilt with half square triangles and quarter square triangles
layer a quilt
machine quilt
bind your quilt
£75 + fabric
(10% discount if bought from our shop
"Free-motion quilting"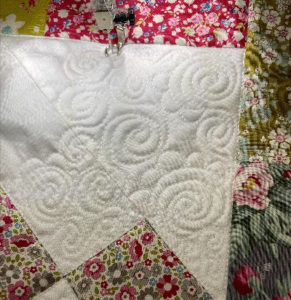 Bring along your machine (with a darning or free-motion foot) and we will explore the basics of free-motion quilting.
Once mastered, free-motion quilting will open up all sorts of possibilities for you.
£20 (all fabric supplied).
"Basic skills: cutting and sewing, half square triangles".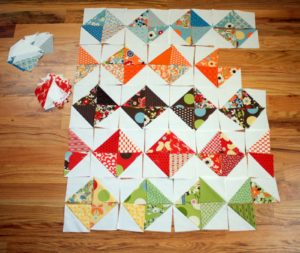 Half square triangles are used so widely in quilting that it is almost impossible to think of patchwork without them.

In this short workshop we will learn to cut accurately, mark, sew and press triangles.

£20

Something resembling normal will resume once we are allowed to open without restrictions. I will reassess the situation again towards the end of June.

Places in any future groups and workshops may be limited. Please get in touch to let me know if you would like to return to the same pre-Covid group that you attended.

Until then, we'll be doing our best to encourage some new quilters and to keep our shop going by appointment.

Don't hesitate to book an appointment to come in to browse our wonderful collection of fabrics, books and patterns. We're being a little more relaxed about numbers in the shop and it is so lovely to be able to meet up and to chat about your projects.

Phone us to make an appointment 0191 4100868

Please wear a mask.

When I closed the sewing school last year, my concern was for our safety and that of our families.

It was right to do so.

We have seen the devastation that has occurred when people/governments have not taken preventative measures.

Our health and that of our families and friends is paramount and far more important than any economic targets.

As we slowly and carefully put together the pieces of our lives, let's remember what is important and tread warily.

In looking forward, let's look for a better way.

A kinder way that supports and enriches all of us.

Looking forward to meeting you again soon,

with love,

Hilary x

April 17th, 2021

We are all set for a new start – so get ready!

High Street Quilting will be opening its doors on Tuesday 13th April.
We'll have an appointment system again, although we will be allowing you to visit with a friend or two,
this time.
Our opening times will be;

Tuesday 9.30am – 3.30pm
Wednesday 9.30am – 3.30pm
Thursday 9.30am – 3.30pm
Friday 9.30am – 3.30pm
Saturday 9.30am – 12.30pm

So, whether you're planning to come along on your own or in a small group,
call us to book a date and time.
It will be wonderful to see you again.
0191 4100868
Please wear a mask
One pattern – two quilts
Using two of our latest fabric ranges,
"Woodland"
by Tilda and
"Quotation" 
by Zen Chic,
Jayne and I have made the same quilt. 
You'll be able to see both ranges when you visit.
Phone us to make an appointment.
Arriving, just in time …….
From Lewis and Irene

"Fairy Clocks"
Dandelion clocks nodding their heads in the breeze. Tiny wings flutter and sparkle in the sun. How many puffs to tell the time?
A fabric collection with gold and silver metallic elements with a beautiful double edge border print.
that Lewis and Irene have created to accompany this beautiful range.
We have the full range of 15 fabrics and one double-edged border.
We'll be adding these fabrics to our website ASAP so check out a suitable pattern and using the codes for each fabric prepare a shopping list, then make an appointment to pop in to shop.
Jayne and I will be on hand to help you as much as we can.
I hope you like my new display of our regular stock of
We have lots more besides.
Please get in touch if there's anything special that you're hoping to buy
so that I can make sure we have it in stock for you when we eventually open.
(I have worn out my cutting board at home and will definitely need a new one
and some new blades soon).
When we finally emerge from our enforced hibernation, will you be a beautiful butterfly, unfurling gossamer wings from a crumpled cocoon or will you be a sleepy, prickly hedgehog, blinking in the sunlight and staggering, battered and bruised into the light?
I can only say that I will not be that beautiful butterfly.
This past year has been a trial and this winter has been the longest, darkest and most tedious of all. I have been challenged in ways that I could never have imagined. I have worked 6 days most weeks, trying to pick up every phone call and respond to every enquiry.
We have sold fabric and books via eBay, I have provided info via the website and I have posted out parcels to the Highlands of Scotland and Guernsey.
I chose not to go down the path of online selling per se since that is not what High Street Quilting is all about.
Customers tell me that it is the look and the quality of the fabrics that they enjoy and value and I would like to stay true to that business model.
I have tried, to read minds, to remember works in progress and I have sent thousands of photographs of fabric to customers to help them to select fabrics for their various projects.
In my wildest dreams I could not have imagined how testing this year would be.
BUT…
I am so grateful for the business grants distributed by Gateshead Council and for the furlough scheme that has helped enormously.
We have not sunk – we are afloat.
And thank goodness for the support of so many of our customers who have kept in touch and who have given us what custom they could. I am so grateful for all the words of encouragement you have given. They have been invaluable.
Thank you.
Groups and classes
It is understandable that our motivation to sew has waxed and waned over time. It is a rare person who does not need the help, encouragement and support of others. Most of us need each other – and we know that now even more than we ever did.
However – this virus is not yet over.
Most of us will have had at least one vaccination but we know that we will not be safe until everyone is safe. There is no news with respect to indoor gatherings for teaching purposes and so – for the time being- there will be no classes or groups.
When we do get the "go-ahead" I will send out a newsletter with details.
And all this time, I have hoped that you have been able to maintain communication with your friends and fellow quilters. Where would we have been without the internet?
Lots of you will have followed online tutorials and classes and discovered lots of new ideas and techniques.  Let's hope that we get an opportunity to share those ideas soon.
Until then, let's try to start rebuilding those connections. share your work and ideas on Facebook or Instagram with High Street Quilting. Contact the members of your sewing groups and form a small network. Perhaps you could make an appointment and arrange to meet up at the shop.
Now let's get this show on the road…..

Call

0191 4100868

make an appointment

and we can start to rebuild our new kind of "normal".

I can't wait.

Love and best wishes,

Hilary x

December 21st, 2020

As this challenging year draws to an end, we wanted to say a huge THANK YOU to all our customers for the support you have given us.

Without it, we would not be here.

Covid has affected everyone and hit many businesses hard. As a small non-essential retailer we were forced to close our shop and sewing school for many months losing essential income from our local customer base.

Our school has been closed the whole time, our brilliant tutors could not teach and many classes booked in advance were cancelled.

But, you, our loyal customers were not put off.

You ordered what you needed by email and phone and we readjusted our working practices over and over to keep you busy.

THANK YOU

YOU ARE AMAZING

And because we realise that despite everything, you may still need last-minute supplies, we'll be open for appointments for three mornings next week before we break for the Christmas holidays.

Christmas Opening Times

High Street Quilting

Saturday 19th December – 9am – 12noon

Sunday 20th December – CLOSED

Monday 21st December – 9am – 12noon

Tuesday 22nd December – 9am – 12noon

Wednesday 23rd December – 9am – 12noon

CLOSED

Monday 4th January – 9am – 2pm

To make an appointment please call us during shop hours on 0191 4100868

On a personal note….

I have never looked forward to the winter solstice with so much passion.

These gloomy, short days of December have taken their toll on my mood and, together with the desperate news all around us, I feel that I am craving light and joy in my life. The isolation has not helped. Although I am in the shop, most days, I still miss the creative buzz that our shop usually generates. I have noticed that some of our usually cheerful and chirpy customers are feeling drawn and tired. And I know that some of our brightest sewing stars are isolated, at home, feeling lonely and depressed. If that is you – please know that you are not alone. And you have definitely not been forgotten.

Social media, especially associated with the creative industries tends to "sugar coat" all messages and images, and often leaves us feeling even more down.

I sincerely hope that this Solstice can be a turning point. A time when the days begin to lengthen and we can begin to HOPE again and look forward to the times when we can meet up with friends and share those things that make us happy.

Hilary x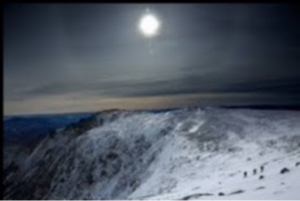 Small interesting fact:
Jupiter and Saturn are due to "conjoin" or overlap on the evening of Monday December 21st.
This will create the appearance of a large star in the south-west, (best time will be between 4.30 and 6pm). This hasn't happened since 1623.
From all of us here at High Street Quilting.
Have the happiest and safest Christmas possible
and a peaceful new year.