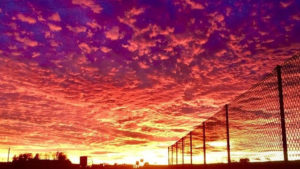 Jayne took this photograph on a trip to visit her daughter, Mary, in Aberdeen. She was with Neil and their children and they were awed by this spectacular sunset. It is quite something. I've see a few beautiful sunsets but nothing quite like this.
As you will probably know, Neil died only a few weeks later.
Our world and indeed our lives in it, can be pretty awesome too. We have been left feeling shattered, broken and lost.
But there's something in the beauty of this sunset that can console us.
We know with absolute certainty that each sunset is followed by another sunrise. The world keeps on turning and we keep on living.
And each time our world is rocked, we look to see how we can make it better.
The answer is love.
The answer is always love.
We are approaching the shortest day and therefore the longest night and the Christmas lights are sparkling to remind us of the light that we need in our lives.
Christmas is when we celebrate love, the love we feel for family and friends and the love we share with each other in our community.
The community we have at High Street Quilting is wonderful.
We have a shared interest in all things fabric but we choose to sew together, sharing our ideas, our skills and our love.
This community has already demonstrated its love for Jayne and her family with so many cards and good wishes and I know that she will be treated gently and cared for when she returns.
When you put up your Christmas lights or light a candle, remember Jayne and her family and remember that your love is appreciated and valued.
I hope that you all experience that love at Christmas.
Christmas Opening Times
Open       Saturday 22nd December
Closed     Sunday 23rd December
Closed     Monday 24th December
Closed     Tuesday 25th December
Closed     Wednesday 26th December
Closed     Thursday 27th December
Open        Friday 28th December
Open        Saturday 29th December
Closed      Sunday 30th December
Closed      Monday 31st December
Closed      Tuesday 1st January
Open         Wednesday 2nd January
The shop will be open on Friday 28th and Saturday 29th December and Sit n' Sew sessions are available both days. If you think you may need to escape then book a place and come and join us. You'll be very welcome.