Festival Time is upon us again.
Time to make plans to visit Birmingham and/or Harrogate to see the amazing talent on display.
I love it and , dare I say it, I need it. Ideas and inspiration for new quilts. Pattern ideas and colour combinations that I'd never be able to imagine.
All will be on show.
And if I may ask, from the owner of a bricks and mortar shop, please pick up lots of ideas and patterns and then purchase your supplies from your local quilt shop. We love to host our sociable "Stitching Classes" but we rely on your custom too. And from a practical point of view, it will make room on our shelves for more and more beautiful fabrics.
So, enjoy;
Birmingham – Festival of Quilts – NEC –
Thurs 1st August to Sunday 4th August 2019
Harrogate – Great Northern Quilt Show – Great Yorkshire Showground –
Fri 30th Aug – Sun 1st Sep 2019
---
Talking of new fabrics…
We've been stocking our shelves with bright new bolts and cut pieces from far and wide.
Famous designers and new names – we don't mind. If we love it we'll stock it.
The new "Holiday" range from Alison Glass is a refreshingly different Christmas range. Just the thing I've been looking for, for a long time. I'm making a quilt with it and I've already made this stunning cushion from the left overs!
Tula Pink, as you know, has produced a wonderful new range, Pinkerville. It's stunning.
We couldn't afford it all but we've cherry-picked the best ones. Just for you.
And, if you prefer something a little more subtle…. We are eagerly looking forward to the arrival of a lovely range "Grove"  by Makower fabrics. (Any time soon)
Aurifil 28
We now have a substantial stock of this beautiful thread. Aurifil really is the most beautiful thread in all of its various weights (thicknesses).
This one – the one with the grey bobbin is particularly useful for quilting. Especially when you want to make a statement. It has a lovely sheen and sews beautifully with a 50wt (orange bobbin) in the shuttle.
I can see that I'm going to be using it a lot.
We're stocking the larger spools with 750m per spool, because you're going to love it so much that you'll want to use it everywhere.
---
Workshops at High Street Quilting
We're preparing for a busy, busy autumn of activities, but in the meantime we have planned a few workshops to suit all ability levels.
Beginners.
A short course to set you off on your patchwork journey.
Half Square Triangles *at *High Street Quilting or HST at HSQ as we prefer to call it.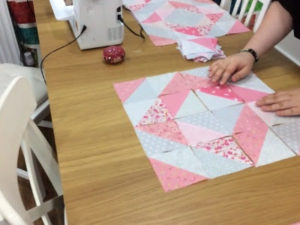 If you are totally new to patchwork, this is the workshop for you. We will guide you through the process of cutting with a rotary cutter and sewing with a quarter inch seam. You will need to bring a sewing machine with a quarter inch foot.
Saturday 27th July 2019
10am – 12.30
£15
Intermediate. 
If you have always wanted to learn to do some foundation piecing then this will be a lovely, stress-free workshop for you.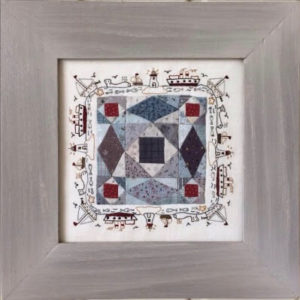 "Storm at Sea" Foundation Piecing with Freezer Paper. We will use this technique to produce a block from the familiar "Storm at Sea" patchwork pattern.
You could make more blocks later to produce a cushion or quilt or use the technique to produce a myriad of more complex designs.You will need to bring a sewing machine and 3 fat quarters of fabric (one dark, one medium and one light)
The embroidery will not be included.
Saturday 17th August 2019
10am – 4pm
£30
More Advanced
If you can handle your machine and you are tired of sewing in straight lines… You may be interested in learning to "free-motion" quilt.
We have two sessions that may suit you.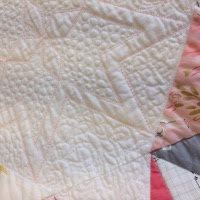 Tuesday 13th August 2019
1.30pm – 3.30pm
OR
Tuesday 10th September 2019
1.30pm – 3.30pm
You will need to bring a sewing machine with a quilting/darning foot.
£15
---
We're having a SALE
A BANK HOLIDAY BONANZA
Saturday 24th,
Tuesday 27th and
Wednesday 28th August.
Save the dates in your diary. You won't want to miss it.
---
Fabrics
Fat Quarters
Threads
Haberdashery
Summertime is a very strange time in the quilting world.
It's time for a break and time to look for new ideas.
A time to refresh and try out new things.
We all need to catch our breath and take it easy for a while, whether the
sun shines or not.
We'll be back to normal in September with a few spaces in classes and a
couple of new classes. Watch out for details, coming soon.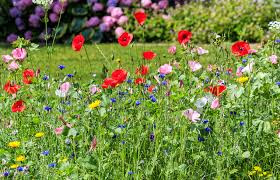 Whatever the weather, have a lovely summer.
Relax and enjoy the beauty around you.
And, as they say…
Give yourself a break.
with love,
Hilary x