Happy New Year
Let's make plans.
Let's dare to be optimistic and forge ahead.
We can't go back to the old ways, as they were, but we can do our very best to focus on doing the things we love.
I'm not sure what I'd have done without my sewing. It has kept me busy and I have loved it more than ever.
So many people have found that they would like to take up sewing as a hobby and so you'll see that many of the workshops below will be suitable to beginners or new starters.
Don't worry if that isn't you – why not look to joining one of our sewciable sewing groups? We have a few spaces (see below) and you'll be able to share your knowledge and love of sewing with others.
---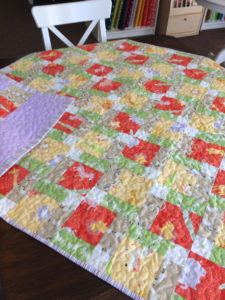 "Let's Make a Quilt" (by machine)
A course over 5 sessions, in which you will make a quilt from start to finish.
We will tackle the skills of cutting, sewing, layering,quilting and binding.
The pattern we will use is "disappearing 9 patch".
Dates;
Saturday 8th, 15th, 22nd, 29th January and  5th February.
Time 10am-12 noon
Price £80 (please note – this class will be upstairs)
---
"Catch All Caddy"                                                                                                                                                                          
Over 5 sessions, Mary Turner will take you through the process of making this useful sewing caddy.
There'll be lots of skills to learn along the way and much fun to be had.
Dates; Tuesday 4th, 11th, 18th, 25th Jan and 1st Feb.
Time 10-12 noon
Price; £15/session
Pattern available to buy, at High Street Quilting
---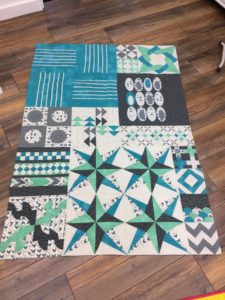 "Mary's Sampler Quilt"
A 12 session project, suitable for the novice quilter.
Mary has taught this project before with incredible results.
If you're looking to learn lots of new skills – this is the course for you.
Beginning Tuesday 4th January for 12 weeks
Time 1.30 -3.30pm
Price £15/ session
---
"Get to Know Your Machine"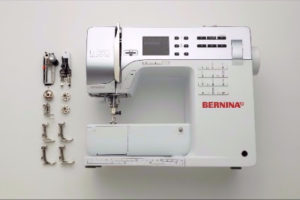 Have you received a new sewing machine for Christmas?
Do you want to dust off your old sewing machine and rediscover what it can do?
In this two hour session we will play with your machine and find out exactly what it can and cannot do.
You'll grow in sewing confidence and feel ready to tackle new, exciting projects.
We have 2 dates to choose between; Wednesday 12th January  OR Wednesday 23rd February
1.30- 3.30pm £15
---
"Free-Motion Quilting"
Back, by popular demand;
a short introduction to the process of free-motion quilting.
If you've always wanted to have a go at this incredibly creative and versatile skill – get in touch and book a place.
Two optional dates for you to choose between;
Wednesday 19th January 1.30-3.30 OR Saturday 12th February 10am -12 noon
(please note, this session will be upstairs)
£25 to include all fabric needed.
---
"Handquilting, for beginners"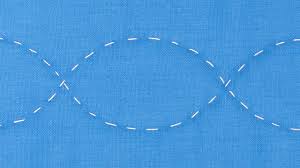 A simple and stress free workshop that could well set you off on a completely new path.
We'll transfer a simple pattern, layer up a block and show you the basics.
Bob's your uncle.
Wednesday 2nd February
1.30-3.30 pm
£30  includes all fabrics and wadding
(please note – this workshop will be upstairs)
---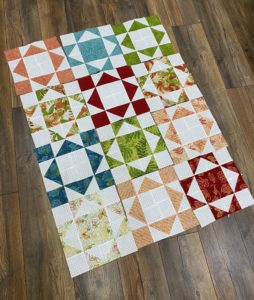 "Half and Half Quilt"
From 1 layer Cake (10″ squares) and an equal amount of background fabric we can make this beautiful quilt. ( If you look closely – you'll see that I'm still busy with mine).
It's a beautiful block – perfect for those with a little experience of patchwork.
Don't expect to get the whole quilt made in one day, but you'll get all the teaching you'll require to make the whole quilt at home.
Date; Saturday 26th February
10am -3pm
£40 ( to include the pattern book – Jenny Doan's Precut Companion)
---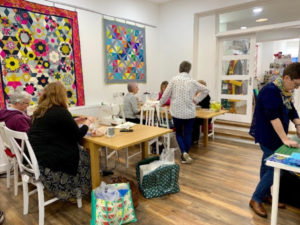 Sewciable / Independent Sewing
Who'd have thought that when we closed up the sewing school 20 months ago, that we'd still be sorting things through and readjusting ourselves to the new normal?
Our groups have begun to reassemble, but they are going to be very different.
Some people have decided to give up on sewing or they've found new groups or places to sew that suit their needs and new people are wanting to come.
I still have a list of classes and payments made "pre-pandemic" please get in touch or pop in to the shop and ask for a refund of any fees paid then if you're not able to return.
We have several small groups running and we're adding two more BUT places are limited. If you'd like to come along to one of these groups please get in touch as soon as possible.
We have spaces available;
Wednesday afternoons, fortnightly, beginning 5th January 1pm -4pm   £7.50
Thursday afternoons, weekly, beginning 6th January , 1pm – 4pm  £7.50
---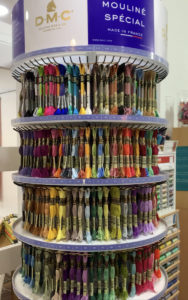 While keeping to our mission of being a specialist quilting shop, I must say that we're not going to stand still and let the grass grow under our feet here at High Street Quilting.
I don't know about you but I love to try out new things – adding embroidery or rework to quilts or trying out new threads or experimenting with colour. We're never too old to try out new techniques and explore new avenues.
And so, I've taken the bold step of buying a brand new DMC spinner, with 572 stunning shades of thread.
I hope you'll love it as much as I do.
Jayne and I have already spent a lot of time marvelling over potential colour combinations. Sad but true!
Come and explore our beautiful, inspiring shop. You'll find books and patterns, threads and fabrics to inspire and delight you.
---
We've been through a nightmare. There's no denying it.
But the shortest day is nearly upon us and we can safely start to look forward to the bright, sparkling light of Christmas and the promise of brighter days.
I hope that you can find a way to join us next year at High Street Quilting.
We love to see you and to see your projects.
Everyday is colourful here at High Street Quilting but it's you and your presence that makes it beautiful.
I wish you and all those you love, a Merry Christmas and a very Happy New Year.
With love,
Hilary
High Street Quilting
will be closed from Saturday 18th December 2021
and
will open again on Tuesday 4th January 2022