It's been a long time coming, but perhaps it's time to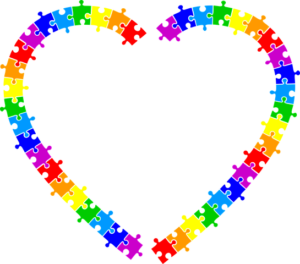 pick up the pieces
If this pandemic has taught us anything it is that we were living in an unhealthy target-driven environment.
Those of us who are still working will know that the pandemic put paid to targets for a while and I, for one, thought that life was better without them.
We learned that, generally, people try their best and that waving a big stick at them simply causes stress. And although some of us need a little stress to get moving, under enormous stress, none of us do our best work.
And so, you'll have to forgive me if we don't simply jump right back in to doing things the way we did before Covid 19.
We can't anyway.
Up until March last year our school was full-to-bursting, every session.
And I was running as fast as I possibly could, just to keep up.
Our classes were buzzing with enthusiastic quilters.
It will be a while until we can get back to those numbers, if ever.
In the meantime (at least until the next stage of "the road map") I'll be concentrating on providing some beginners classes for all the people who have discovered our incredible hobby via Facebook, TV, YouTube or even by simply having a go.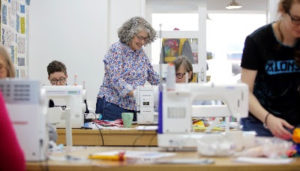 And so,
I have timetabled a few workshops and one short course for any beginners who would like to come along and try out a new skill. We will have only 3 students any time in our workshop, in order to maintain social distance. All attendees will be required to wear a mask in the classroom.
Wednesday 19th May 2021
10am – 12 noon
"Get to know your Sewing Machine"
Friday 21st, 28th May, 4th, 11th, 18th June,
1pm – 4pm
"Let's Make a Quilt" 5 afternoons
Wednesday 26th May
10am – 12noon
"Basic skills – cutting and sewing – half square triangles"
Wednesday 2nd June
10am – 12noon
Free-motion quilting  – the first steps.
Wednesday 9th June
10am – 12noon
"Get to Know your sewing machine"
Wednesday 16th June
10am – 12noon
"Basic skills – cutting and sewing – half square triangles."
Further details of classes below.
Phone to book your place 0191 4100868
Payment for classes by cash or cheque please (H.S.Q. Sewing School Ltd).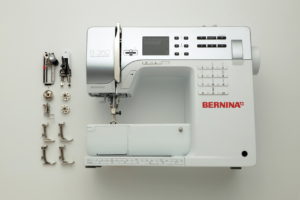 "Get to Know Your Sewing Machine."
Bring your sewing machine along to this 2 hour workshop and play!
In this stress-free environment you'll discover how to get the best out of your machine and learn more about all those helpful feet and functions that you didn't dare to try.
£20
"Let's Make a Quilt"
in 5 sessions of 3 hours.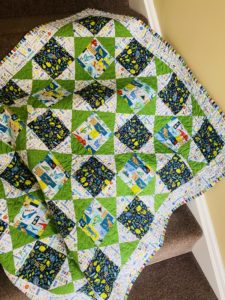 In this class, designed for beginners, you will learn to:
measure and cut, using a ruler and rotary cutter
sew with a 1/4″ seam
Create a small quilt with half square triangles and quarter square triangles
layer a quilt
machine quilt
bind your quilt
£75 + fabric
(10% discount if bought from our shop
"Free-motion quilting"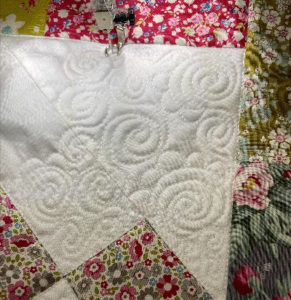 Bring along your machine (with a darning or free-motion foot) and we will explore the basics of free-motion quilting.
Once mastered, free-motion quilting will open up all sorts of possibilities for you.
£20 (all fabric supplied).
"Basic skills: cutting and sewing, half square triangles".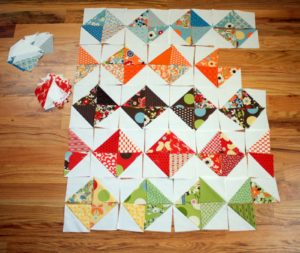 Half square triangles are used so widely in quilting that it is almost impossible to think of patchwork without them.
In this short workshop we will learn to cut accurately, mark, sew and press triangles.
£20
Something resembling normal will resume once we are allowed to open without restrictions. I will reassess the situation again towards the end of June.
Places in any future groups and workshops may be limited. Please get in touch to let me know if you would like to return to the same pre-Covid group that you attended.
Until then, we'll be doing our best to encourage some new quilters and to keep our shop going by appointment.
Don't hesitate to book an appointment to come in to browse our wonderful collection of fabrics, books and patterns. We're being a little more relaxed about numbers in the shop and it is so lovely to be able to meet up and to chat about your projects.
Phone us to make an appointment 0191 4100868
Please wear a mask.
When I closed the sewing school last year, my concern was for our safety and that of our families.
It was right to do so.
We have seen the devastation that has occurred when people/governments have not taken preventative measures.
Our health and that of our families and friends is paramount and far more important than any economic targets.
As we slowly and carefully put together the pieces of our lives, let's remember what is important and tread warily.
In looking forward, let's look for a better way.
A kinder way that supports and enriches all of us.
Looking forward to meeting you again soon,
with love,
Hilary x